Last week, after not receiving yet another offer on our house, I got stir crazy. I havent done any home projects in over a year because I didnt want to waste my time if we were going to move. Well a year later, we are
still
there! I decided there is no reason living with something I dont like and paint really doesnt cost that much.
I originally saw
this
post from Young House Love. Their striped bathroom really caught my eye and I had to do it in mine.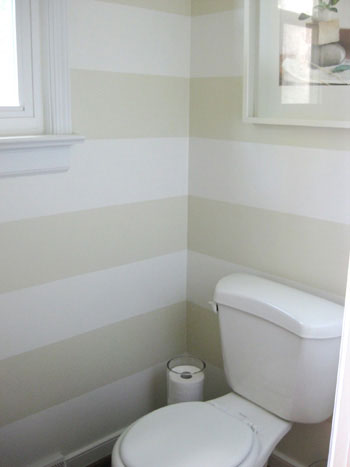 They described the project as "simple" and a "4 hour project."
I thought "just the perfect thing to do on a boring Friday night."
Bathroom Before


When I originally painted my master bathroom, it was supposed to be a relaxing, calm, light blue-green. What I ended up with was
swimming pool blue
. (I really need to buy the sample paint before I start a whole project!) It had sat this way for over a year, when I just couldnt take it anymore.
I will just give the short version of what happened.
Friday
Bought paint
Paint was too dark (Once again, should have bought sample)
Bought white to tone it down... there was no toning it down
a 9pm trip to Home Depot. Pick out the PERFECT cream, buy
MORE
paint.
Color was perfect, coverage was not. Blue walls were showing through my "paint and primer in one" that I bought.
Run out of paint
Me= ticked
Go to sleep mad.
Saturday

Wake up
Go to Chick Fil A... get biscuit
Head to Lowe's to have them match PERFECT cream.
I pay 4 dollars more for an entire gallon of paint. Color matches exactly.
Im starting to really like Lowes... (Dont tell my husband, I could start WWIII)
Head home. Start painting
Titan wants to help... Titan gets kicked out of the bathroom.
Valspar paint is awesome. Cream paint is done
::::::::::::::::::::::
Watch UGA football - Trick or treat
::::::::::::::::::::::
Come home and begin marking off lines for tape
Lines are way off, decide to wait until morning
Sunday
Go to church
Come home and have B help mark off more lines
Lines still off
Figure out baseboards are different sizes on different walls... HUGE PAIN
Spend next 3 hours measuring and leveling lines
Tape
Paint
Paint
Paint
Peel of tape
VOILA!
The color is much creamier than shown in this photo. I havent made it home during daylight hours yet this week, so the bathroom light makes it look weird.

Im so happy with the final result, even if it was a PITA to get it accomplished. The creamy colors are really flattering too! I kept wondering why I looked tanner than I did before! haha!
Note to self:: Always have creamy colored bathroom walls!
For paint colors I used Patience from Sherwin Williams for the darker color and Behr Coastal Beige from Home Depot that Lowes matched with better paint. =)

If you are contemplating this project, and you arent a pro like Young House Love, then I would highly suggest a laser level. That would have completely saved about 5 hours of work!